I love Dinosaurs!!!!! It probably comes from having to boys and not being very girly, but I just love all the art and craft activities you can fun with when it comes to them.
Here you will find links to some of my favourites.....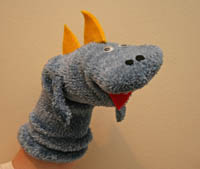 Dinosaur sock puppets. Great for developing language, creativity, imagination. You can find a great link for this and some of the following activities on
http://www.allkidsnetwork.com/crafts/animals/dinosaurs/dinosaur-sock-puppet.asp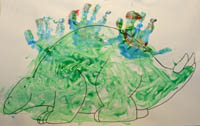 Handprint Dinosaur. Great for sensory play and language development. I love the handprint spikes.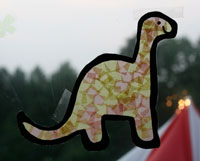 This tissue paper Dinosaur is better than any stained glass you will see. brilliant for when the light shines through.
They also have a great salt dough fossil craft activity that will have you wanting more.
I love making paper plate Dinosaurs with the children too. There are so many different kinds you can make. Great for making patterns too. I really love this one which I have copied often from
http://notesfromtheblacklagoon.files.wordpress.com/2008/03/dsc00095.jpg
I adapt this idea by writing numbers on the dinosaurs and asking the children to give the dinosaur the correct amount of spikes to develop number recognition.

This is just a small selection of my favourites. I will post more soon.